Shop For eBooks:


http://www.eBookAd.com
Audley Books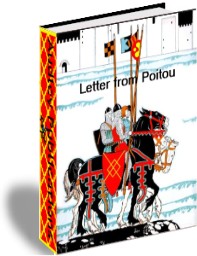 Available Now! 'Letter from Poitou', a complete interactive novel on CD- ROM. Words, sounds, images - relive the turbulent fourteenth century, with its intrigues, wars, plagues, and romances. The Barons of Audley caught up in the tumult of the Hundred Years War with France, and the Eardleys' part in these events.
NEW!! Letter from Poitou is also now available in the popular Microsoft Reader format - you can get Microsoft Reader as a FREE download from Microsoft, for desktop or handheld pc's. Take this with you wherever you go on laptop or handheld.
To see a summary of the novel, Click Here To view a sample chapter Click Here
Just $9.99! (About £6.50) - get it with PayPal, secure online payment, click the link below. This fee covers costs of production and includes a contribution to the 'Eardley' window fund in St. James' Church, Audley.
Find out more by clicking on the picture

---
If you would rather not pay online, prefer snail mail etc., or would like the books on cd-rom email us for details and we'll be glad to oblige!